January 19, 2018 - January 20, 2018




10:00 AM - 4:00 PM
What is The Quest Trust Company Self-Directed Boot Camp?
Quest Trust Company's Self-Directed IRA Boot Camp is one of our most powerful and informative educational events that we put on, and this 2018 we are making this one-of-a-kind learning experience available to everyone by bringing it online. This 2-day digital workshop provides advanced training from some of the most sought after Self-Directed IRA and Real Estate Investing experts from across the nation and is designed to give you as many investing tips and tools as possible! Past Boot Camp attendees have even said that this event is one of the most valuable training days they've been a part of.
Investment opportunities are everywhere; learning about them is the first step.
The Learning Possibilities are Endless!
**Link to join webinar will be sent day prior to the event- the cut off time to RSVP is Thursday, January 18th at 12pm CST*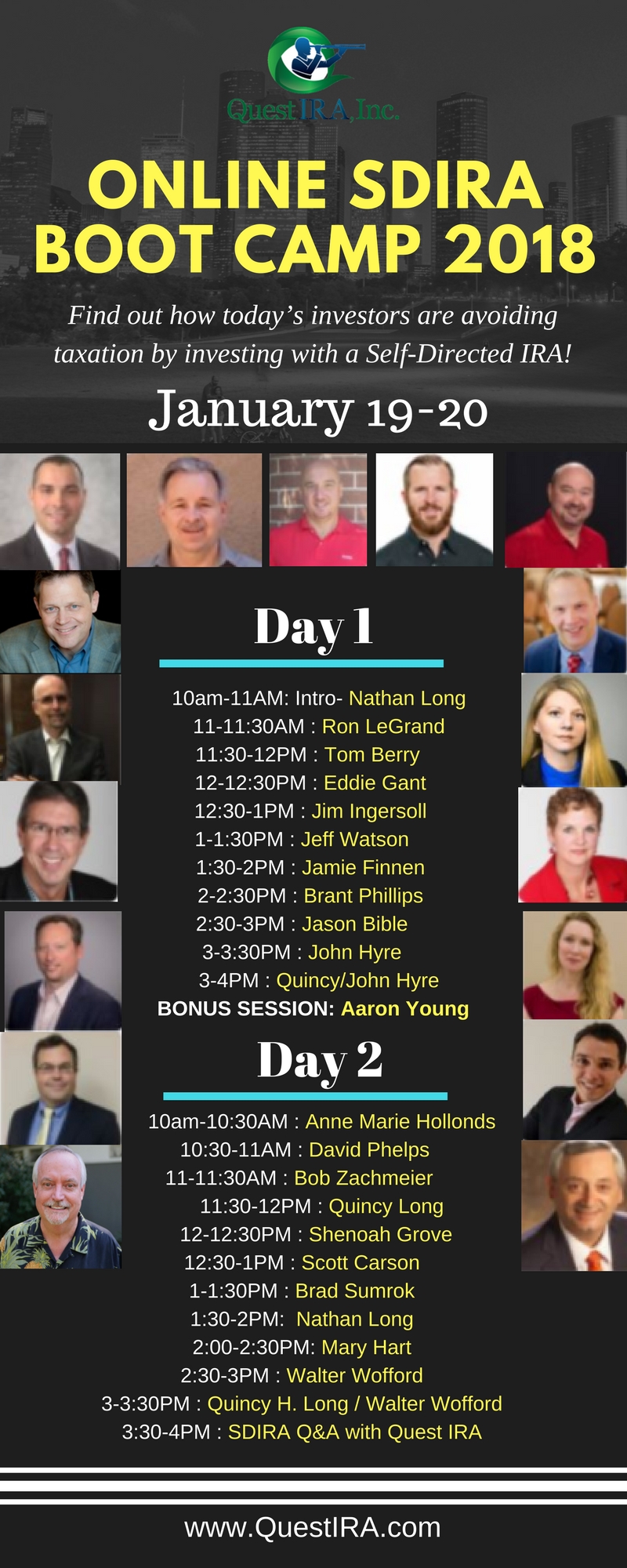 Learn how to: 
Increase your personal wealth for retirement
Use other peoples' IRAs as a private funding source
Leverage your time and money
Expand your network to increase your net worth
Analyze a Roth conversion to maximize your tax savings
Pass more wealth on to future generations
Study numerous IRA case studies from investment experts and Quest clients
Here's What Past Attendees Have to Say…
"This event BLEW MY MIND…" – Peter M.
"It was my first Quest Trust Company Boot Camp and it was definitely worth every penny"- Michael H.
"The Boot Camp was great! I am happy I purchased the VIP ticket" – Marcia T.
"Looping in my husband… The Bootcamp on Saturday was terrific. Thanks!"- Gretchen
"Quincy: Thank you all, for an excellent program Saturday. What a competent, professional corporate culture you guys have built throughout your business…"- Allen
Check out these video highlights from Houston's 2016 Boot Camp!